UNAVCO Resources: Campaign and Kinematic GPS/GNSS
UNAVCO Resources: Campaign and Kinematic GPS/GNSS
This page covers resources for GPS/GNSS surveys with portable equipment and includes static, rapid static/fast static, or kinematic data collection. UNAVCO can supply the full range of equipment, training, and field support for these surveys. Training may be provided at UNAVCO prior to the field project, or on-site at the beginning of a project. Technical support provided by UNAVCO included field engineering staff, custom tailored training to research field teams, technical consultation, software, and documentation.
UNAVCO maintains a pool of GPS/GNSS receivers and ancillary equipment available for community use. Investigators funded by NSF-GEO, NSF-OPP, and NASA receive the highest priority. This section contains an overview of the equipment and other resources available.
Working with UNAVCO

UNAVCO Campaign Investigator's Manual
General information, UNAVCO support procedures for both proposal preparation and field project data collection, and technical planning outlines for large scale GPS/GNSS projects.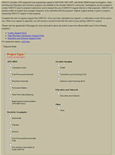 Use this online interface to request project support from UNAVCO.

UNAVCO Equipment Loan Agreement
Outlines the terms and responsibilities of borrowing equipment from UNAVCO; required to be filled out by the P.I. or designated project representative prior to borrowing UNAVCO equipment.
Planning a Campaign Survey
For a complete overview of executing a campaign survey from start to finish, check out our UNAVCO Campaign GPS Handbook:
Online resources are listed below.
Survey Style