Satellite Communications Summary
Satellite Communications Summary
Two types of satellite communications have been utilized by UNAVCO: Iridium and VSAT.
Iridium is a satellite communication system that allows users to place voice and data calls from remote locations any place in the world using a handset about the size of a cordless home phone. Calls can be made to land line telephone systems, cell phones, or other Iridium phones. Internet access is also available through Iridium's ISP or other ISP's, using an L-Band Transceiver (LBT) at the remote site in place of the Iridium phone. An LBT provides an asynchronous data port and is fully Hayes compatible, meaning that it can be treated as a standard phone modem. Iridium access is available to non-DoD government users (i.e., NSF) at reduced rates through a Department of Defense (DoD) contract. As a result of DoD security issues, however, not all connection options are available to NSF users.
VSAT (Very Small Aperture Terminal) is a satellite communications system that allows users to send data, voice, and video signals via ground transceivers. Signals must be sent and received by VSAT transceivers; the signal is rebroadcast by a VSAT hub.

Information on satellite communications used by UNAVCO
Iridium
Iridium allows up to 2400bps, suitable for GPS data downloads. It is the only communications system with global coverage, suited for the most remote sites where no other communications options are practical. Purchase with audio board disabled. Use SYN-DC-936 DC-DC power converter with serial connection and 20 gauge power wires. Average power draw is ~1.0 Watt when downloading ~1MB data per day. Iridium modem is sensitive to antenna cable losses; keep overall cable loss between modem and antenna < 3dB.
Iridium comms for GPS systems have been operational since 2005 with the Trimble NetRS receiver. Iridium comms are currently deployed in 50+ locations in Antarctica and Greenland for the POLENET project, UNAVCO/PASSCAL Remote Stations MRI project, and several other PI projects. At present, the Iridium/NetRS system must incorporate a timer switch.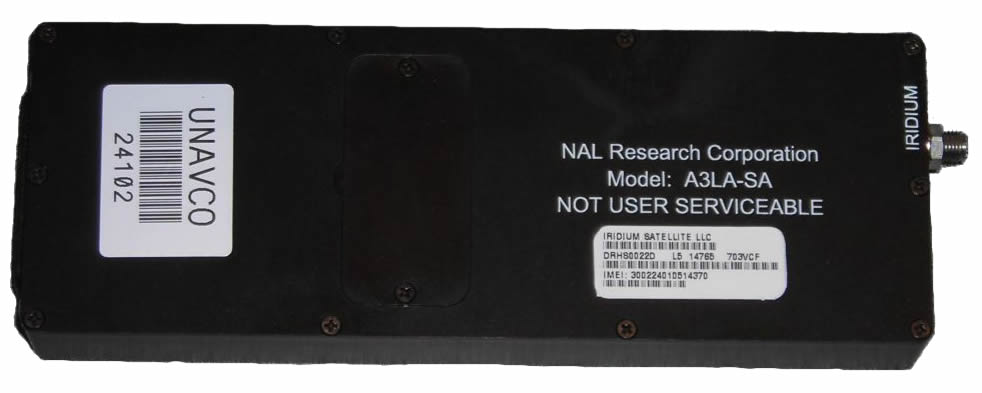 VSAT