Shallow Foundation Mast Overview
Shallow Foundation Mast
| | | | | | | | |
| --- | --- | --- | --- | --- | --- | --- | --- |
| Back to comparison table | Mount Commonly Used | Stability | Cost | Install Time | Labor | Substrate | Site Impact |
| | SCIGN mount | med-high | $150 | 1-2 d | 1 | | low |
The shallow foundation mast consists of a 1.25"-diameter threaded stainless steel mast cemented or epoxied into bedrock or cement. The height may vary; shown here is an ~5" long mast cemented about 20" deep into bedrock. This style of mast has been used throughout the EarthScope Rio Grande network in Colorado and New Mexico, and for GGN sites FALK (Faulkland Islands) and ABPO (Madagascar).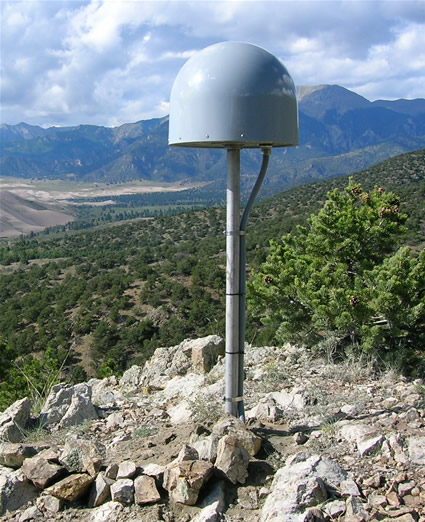 Site RG23 of the Rio Grande network, Colorado and New Mexico.
Pros
Inexpensive (approximately $150 for basic materials)

Materials are readily available

Small footprint, low-profile
Cons
Can only be installed in solid material

Requires heavy-duty hammer drill
Design and Construction
A heavy-duty hammer drill is required for installation.
Documents
None.
Installation Photos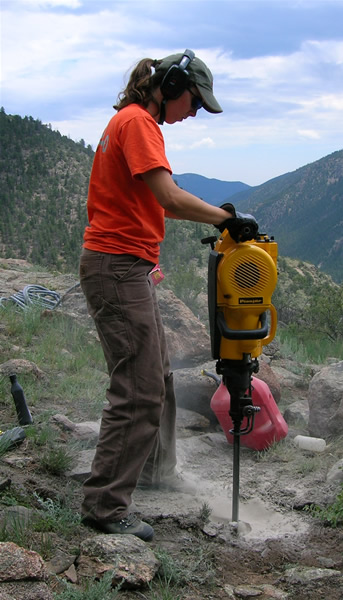 Nicole Feldl of UNAVCO drills the post hole with a gas-powered drill.
Approximate Cost
$150
This cost is for the monumentation only; the antenna mount (e.g. SCIGN mount) is not included.
Materials
1.25" stainless steel schedule 40 pipe (cut to preferred length)

cement or concrete or epoxy
Tools
heavy-duty hammer drill and drill bit(s)

measuring tape or measuring stick

tube to blow rock flour out of the hole

bucket for mixing cement or concrete

level

compass
Mount Commonly Used
A SCIGN mount is required if using a SCIGN radome. If not using a SCIGN radome, a mount such as the SECO 2072-series stainless steel antenna mount is a more economical solution.