Choke Ring Antenna Calibrations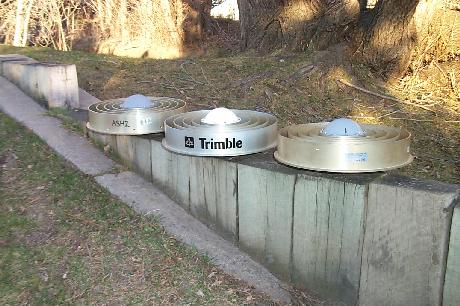 Pictured above from left to right are antennas from Ashtech, Trimble, and Allen Osborne & Associates. With an increase in the number of companies offering a choke ring antenna, it is important that any differences is the dimensions from one antenna to another are noted. UNAVCO measured the dimensions of the Trimble Navigation, Ashtech, Allen Osborne & Associates, and Leika choke ring antennae.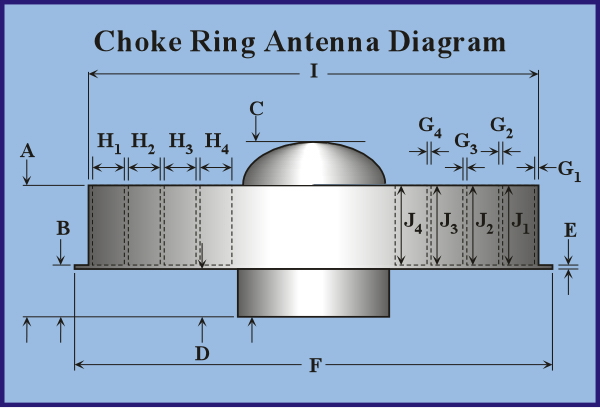 This is a diagram of a generic choke ring antenna, defining the various standard dimensions (which are noted in the table below). Also noted in the table is the Difference in mm from the IGS reported values for those dimensions.
For more information on GPS Antenna Testing and Calibration, please see the The NGS/NOAA Antenna Calibration Page. Inside the table below, the NGS/NOAA test results for each specific antenna model are linked directly to the model number when available. Select the link to see the results.
Also of interest is the SCIGN (Southern California Integrated GPS Network) Website.
Dimensions of Manufactured Choke Ring Antennae

AOA
Trimble
Leica
Ashtech "D"
Ashtech "E"
Ashtech "B"
Model
7490582-2
29659-00
10839
700936
700936-02
701945-02
DMC Element
C 146-6-1 S/N 2243
C 146-6-1 S/N 1993
C 146-10-1 S/N 2839
C 146-10-1 S/N 2821-10
C 146-10-1 S/N 1306
unk
SCIGN
NO
NO
YES
YES
YES
YES
Units
Inches
mm
Diff IGS
Inches
mm
Diff IGS
Inches
mm
Diff IGS
Inches
mm
Diff IGS
Inches
mm
Diff IGS
Inches
mm
Diff IGS
"A"
3.988
101.3
0.70
4
101.6
0.40
3.984
101.2
0.81
3.97
100.8
1.16
3.992
101.4
0.60
3.972
100.9
1.11
"B"
1.584
40.2
-2.23
1.497
38.0
-0.02
1.487
37.8
0.23
1.489
37.8
0.18
1.51
38.4
-0.35
1.594
40.5
-2.49
"C"
5.482
139.2
5.508
139.9
5.475
139.1
5.453
138.5
5.475
139.1
"D"
1.37
34.8
0.20
1.375
34.9
0.08
1.359
34.5
0.48
1.365
34.7
0.33
1.38
35.1
-0.05
1.37
34.8
0.20
"E"
0.12
3.0
-0.05
0.12
3.0
-0.05
0.125
3.2
-0.18
0.119
3.0
-0.02
0.14
3.6
-0.56
0.122
3.1
-0.10
"F"
14.9375
379.4
1.59
15.01
381.3
-0.25
14.9375
379.4
1.59
14.9375
379.4
1.59
14.9375
379.4
1.59
"G1"
0.139
3.5
0.125
3.2
0.135
3.4
0.13
3.3
0.145
3.7
0.129
3.3
"G2"
0.139
3.5
0.125
3.2
0.132
3.4
0.13
3.3
0.145
3.7
0.129
3.3
"G3"
0.137
3.5
0.125
3.2
0.132
3.4
0.13
3.3
0.143
3.6
0.129
3.3
"G4"
0.137
3.5
0.125
3.2
0.132
3.4
0.13
3.3
0.143
3.6
0.129
3.3
"H1"
0.999
25.4
0.998
25.3
0.99
25.1
0.994
25.2
0.99
25.1
1.0
25.4
"H2"
0.981
24.9
1.002
25.5
1
25.4
0.998
25.3
0.988
25.1
1.0
25.4
"H3"
0.99
25.1
1
25.4
1
25.4
0.998
25.3
0.99
25.1
1.0
25.4
"H4"
0.994
25.2
1
25.4
0.99
25.1
0.998
25.3
0.99
25.1
1.0
25.4
"I"
14.1675
359.9
14.173
360.0
14.134
359.0
"J1"
2.505
63.6
2.500
63.5
2.000
50.8
2.475
62.9
2.490
63.2
2.475
62.9
"J2"
2.505
63.6
2.500
63.5
2.000
50.8
2.478
62.9
2.491
63.2
2.477
62.9
"J3"
2.505
63.6
2.500
63.5
2.000
50.8
2.478
62.9
2.491
63.3
2.476
62.9
"J4"
2.501
63.5
2.500
63.5
2.000
50.8
2.478
62.9
2.491
63.3
2.479
63.0